2015-08-24
The September Movie Preview
The summer leftovers can finally be thrown out. Fall is here. Which movies will you say, "I'll see you in September" to?
1
The Visit (September 11th)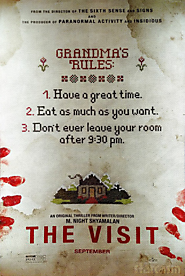 It's been 7 years since M. Night Shyamalan's The Happening. Since then, Shyamalan strayed from the eerie with a couple of forgettable disasters (The Last Airbender and After Earth) so, at the very least, it's good to see him back to his roots. Since The Sixth Sense, Shyamalan's films have been polarizing. The reception has been lukewarm. But, based on the trailer, this looks intriguing.
2
Black Mass (September 18)
The true story of one of the most powerful gangsters in Boston history, James "Whitey" Bulger. It's early but it might be safe to pencil in Johnny Depp for a Best Actor nomination for his take on Bulger. While it doesn't mean movies released from January-August won't get Oscar consideration but let's declare September 18th as the start of Oscar season.
3
Pawn Sacrifice (September 18)
Tobey Maguire brings the genius and paranoia of Bobby Fischer to life. The true story of Fischer vs. Boris Spassky during the rise of the Cold War. Add to it, Edward Zwick (Glory, Legends of the Fall, The Last Samurai, Blood Diamond) as director and you have a must-see biopic.
4
Maze Runner: The Scorch Trials (September 18)
Based on The Scorch Trials, the second book in the Maze Runner trilogy, Maze Runner: The Scorch Trials is the sequel to, you guessed it, 2014's The Maze Runner. Basically, The Maze Runner was The Lord of the Flies on steroids. Look for more of the same from the dystopian sequel.
5
The Intern (September 25)
Writer/director Nancy Meyers has been somewhat hit or miss. Her last film, It's Complicated, was well received. The Holiday? Not so much. Anne Hathaway as CEO of an internet start-up, Robert DeNiro as the world's oldest intern? Here's the fear: The majority of intrigue is given away in the trailer.